I had so many plans for the weekend. None of those plans entailed going to
Cole's
this past Friday. But I went. Just a couple of drinks, just for a few hours to catch up with Laura and Ali. I did, and it was good. Didn't go into the back to listen to the band, but good music, Vegas stories, French dip sandwiches, and Tae Bo behind the bar - all before midnight. I was restless and still very much wide awake, so I accepted an invitation to check out one of the regular's loft across the street (I sized him up and figured I could take him if he turned out to be creepy, so I went). His place was smallish, but he and the pad were cool. We sat out on his roof and I met his neighbors. Now if I could only remember their names.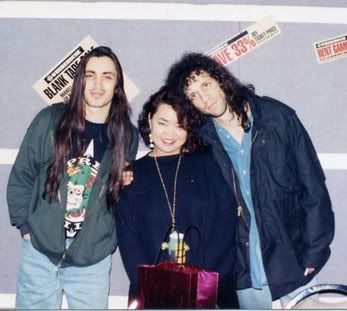 We sat there and enjoyed their rooftop view. Felt guilty for not taking advantage of
my rooftop and view
. We were running out of alcohol, so someone called Golden Gopher. They must have been slammed because they weren't picking up. We smoked the rest of the stash, drank the rest of the booze and I listened to their stories of adjusting to life downtown. I am so glad they got it. Welcome to the neighborhood.
Brunch at
Pete's
the next morning hindered my recovery from the night before. Note to self: one bloody mary is a good idea, four - not so much. The neighborhood is coming along nicely.