One of the many reasons Jim and I loved our secluded resort on Ko Yao Noi is because of the lack of activities. The resort is small, only fifteen villas, and apart from breakfast and dinner, we never saw more than three or four people at a time.
The pace is spectacularly slow. I watched a gardener trim back a few flowering branches, then stop to feed the koi in the pond. He went back to trimming the garden, then sat down under a tree. An hour later, a palm frond fell from a tree in front of our beach villa. The gardener quickly dragged the palm frond away, disposed of it, then spent the rest of the afternoon under the tree, waiting for another to fall. I, of course, had the time to watch him, the shimmering ocean, the limestone karsts just off-shore, and the occasional sailboat and long-tail boats as they floated and chugged in and out of view.
I was reluctant to leave the resort, but felt that we should at least try to see more than just our island. So Jim and I signed up for an island shopping and sightseeing tour, the only one offered that didn't involve diving, kayaking, or snorkeling.
Shortly after breakfast, Sord and the Captain pulled up to our beach in a long-tail boat, ready to take us to Krabi, about an hour away across the bay.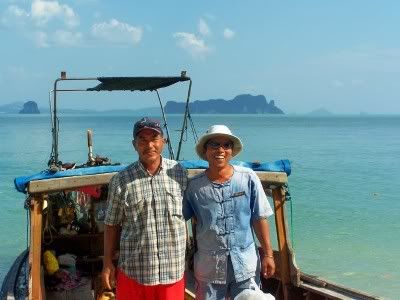 Sord spoke English very well and managed to answer all our questions about our island as we chugged past the limestone karsts.
"My veelage, is in de middle of de island. We have seven veelages on de island, two on de east side, two on de west side and three in de middle. My wife and I live wid my fadder and modder. My wife, she work in anodder resort, also as tour guide. Most of de people in de island are fishermen or work in de rubber plant. De Captain, he is also from my veelage."
Then I saw it in the distance. I pointed and asked Sord, "Who lives there?"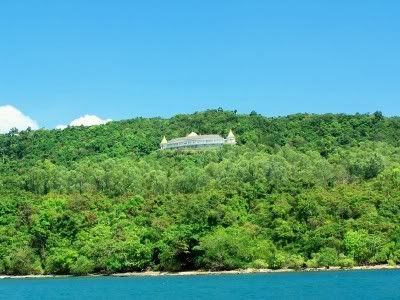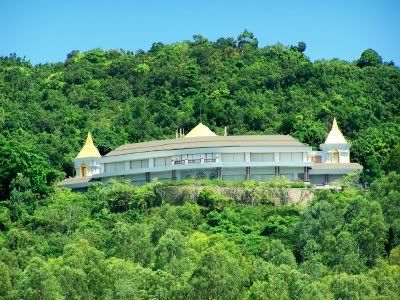 "Dat is de palace of de King of Thailand. He has
a palace in Bangkok also
. Tree times a year, de palace is open to de public - de King's birtday, de Queen's birtday, and Songkran. De forest around de palace is a national reserve. Dere are many monkeys all around. De roof of de palace, is solid gold."
Twenty minutes later, were were at Ao Nang, a touristy strip along a tiny beach. It was hot, humid, and lousy with shops and European tourists. We did our souvenir shopping quickly, broke for lunch in an open-air restaurant and watched the parade of locals and sunburned tourists zip by on foot, tuk-tuks and mopeds.
We wolfed down lunch. "Let's get out of here," I suggested. Minutes later, Sord was leading us past pack after pack of tourists, back to the boat.
After a few minutes of me splashing around, trying to climb back into the boat, we were off, on our way to Ko Hong (literally translated, island with lagoon). We passed Ko Hong on the way to Krabi, but we had to return at high tide so that we could enter the lagoon.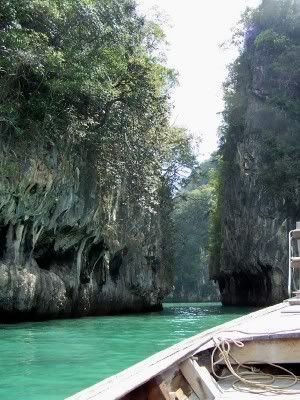 Once inside the lagoon, the Captain turned off the motor. There was one other boat in the lagoon, another couple with their guide. Quietly, we floated around the edges of the lagoon.
It was so beautiful inside the lagoon, so peaceful and quiet. We found ourselves whispering, pointing out the high cliffs surrounding the lagoon. Sord pointed out the ropes going into the caves and explained how people would go inside the caves to collect birds' nests, and that it was very dangerous. I asked Sord if he ever tried it.
"Yes, I try once. I went wif my friend, I go inside de cave and I see a python. I don't go inside de cave anymore."
Our boat bumped up against a mangrove tree. I heard a splashing in the water, but didn't see anything in the shallow, clear water.
"What was that?" I asked.
Sord replied nonchalantly, "Crocodile."
I suppressed a scream, but jumped away from the mangrove trees and tried to put Jim between me and the sound of the crocodile. Then I realized that Jim, Sord and the Captain were all laughing at me.
Sord laughingly apologized, "Sorry, sorry. I'm only joking. No crocodile."