Jim
and I flew into Phuket for the first half of our honeymoon. Our driver picked us up at the airport and drove us through the jungle and past rubber tree plantations. Within thirty minutes we were at Bang Rong Pier (picture below), boarding a long-tail boat for an hour ride to the resort.
Bang Rong Pier, photo courtesy of Jim
On our island resort of Ko Yao Noi, there wasn't much to do once the sun went down. And by that I mean nothing I want to blog about in any detail. Satellite television was available upon request, but I didn't realize that until I read the brochure when we returned home. I just thought there weren't any, by choice, in the 15 villas that comprised this resort. A choice I agreed with completely. There was a phone, but no directory and I assumed, nothing else on this island but another resort on the other side.
Every night, we'd watch the sun set over the limestone karsts just offshore. The lights from nearby Krabi (an hour away by boat) would twinkle in the distance and that's when we'd put down the books we were reading and head to the restaurant for dinner. Jim and I methodically went through the menu, having tried a good variety of dishes by the time we left. Desserts were wonderfully tropical items and my favorite was the bananas in coconut milk. Afterwards, we'd walk thirty feet back to our villa, a gazillion bright stars above, illuminating the way. We fell asleep every night listening to the sounds of frogs and the ocean at our doorstep.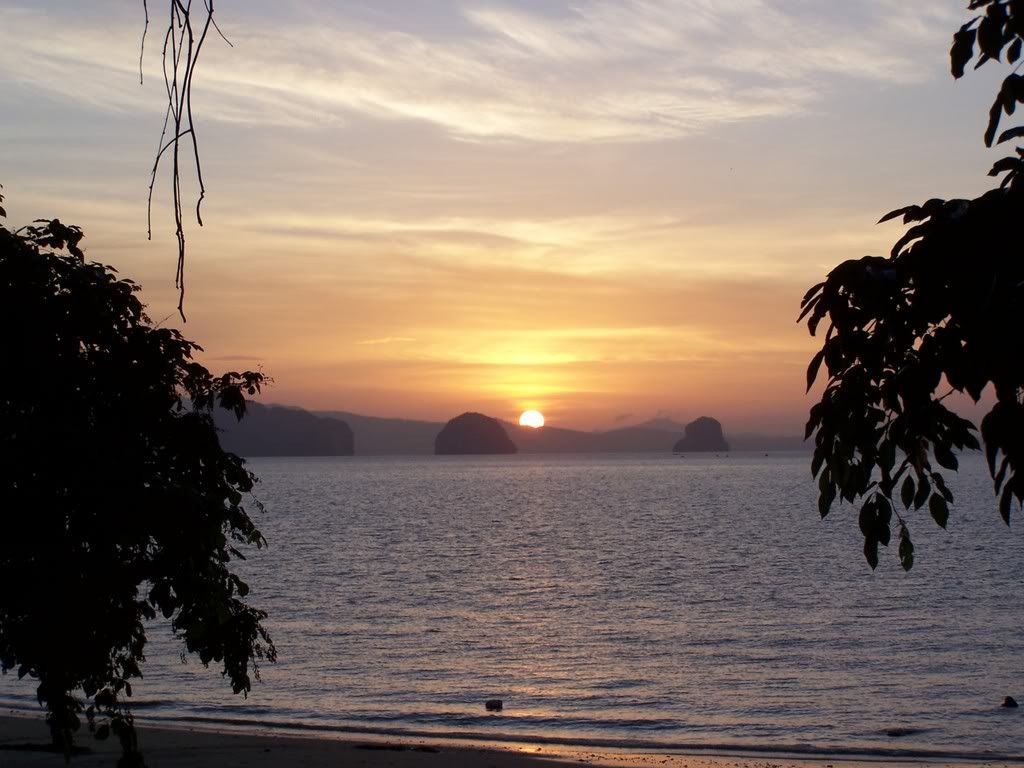 Sunrise through the trees.
Just before sunrise, we'd hear the sounds of birds chirping and whistling and much to my surprise, we would wake up to watch the sunrise. The coconut palms scattered around the resort and at the edge of the grass helped to shade our villa from the brilliant morning light, filtering it, and framing our view of the limestone karsts in the water.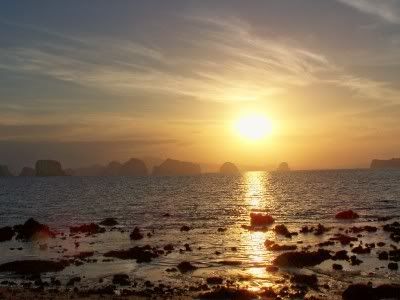 Low tide sunrise.
Other early risers would take the kayaks out for a early morning trek around our little, long island. Thanks to the karsts, the water is incredibly calm around our island and perfect for kayakers without experience or ability. I was almost tempted to try it, but decided to float in the pool instead. I repeated that choice about three times a day, almost every day. Not a bad start to a honeymoon.
Me, not kayaking. Photo courtesy of Jim