My friend Camille, who owns and operates a great shopping service called
Shopper Shuttle
, called me, "There's a winery near the Camarillo Outlet that we want to check out. Would you and
Jim
like to help us evaluate their winery tour and tasting, make sure it's something we can recommend to our customers?" Hmm, let me think, wine and shopping, and someone else drives. Without hesitation (and without asking Jim), I jumped up and down, yelling, "Yes! Yes! Count us in!"
Jim made a face when I told him about the shopping part. "Don't worry, there's a Nike outlet, a Levi's outlet," I took a deep breath and lied, "And I'm sure there's a Mac store there, too."
As it turned out, Jim was sick that day and stayed home in bed. The winery tour sucked, the people that worked in the restaurant there were rude, and the woman who gave the tour looked and acted like the witch who tried to eat Hansel and Gretel. No lie, she bitched out a woman because she left her stroller at the bottom of the stairs and let her kid wander more than six feet away from her. I thought she was going to drop-kick the kid on her way back to our group. We were really taken back by her outburst, but grew extremely uncomfortable when she stage whispered nasty things about "those people" to our tour group. Once out of earshot, Matt (the only guy in our tour thanks to Jim being "sick") impersonated her voice, saying, "How did you get out of the oven, little girl? Get back in there!" Highlight of the tour. Needless to say, that winery didn't make the cut.
At least the drive up there and back was beautiful. We took the coastal route, here's the group, looking at the seascape on the way back.
Looking back where we came from, then south towards Los Angeles.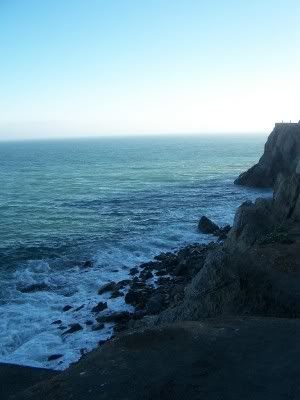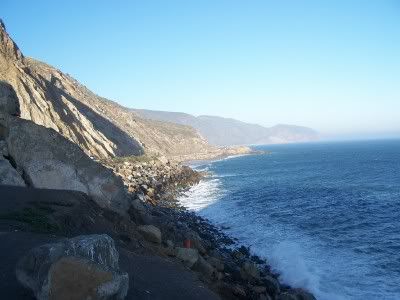 Shopper Shuttle is taking reservations for Thanksgiving weekend shopping excursions. I'll probably take their Shuttle to the Camarillo Outlet for their Day After Thanksgiving Sales, since their stores open at midnight. I went last year, got there around 2am and didn't come back until 7:30am. However, I went shopping at South Coast Plaza with my mom right after breakfast, from about 8:30am until midnight. That's what, almost twenty hours of shopping? And probably about nineteen more hours than Jim is willing to do. So I guess I'm going shopping with the Shopping Sherpas again that weekend.