Jim
and I attended
Grand Performances screening of An Inconvenient Truth
last weekend. Jim thought leaving his place at 5:40pm for an 8pm screening was a little much. But we had a couple stops to make before trekking up 4th Street to California Plaza and I knew the place would be packed and that people would get there early (I was right). We stopped at the Old Bank Deli to pick up our sandwiches, then to
Lost Souls
for a yummy
ube
shake with coconut for me, otherwise known as the 5th and Spring shake, and a Nutta Budda with soymilk for Jim, otherwise known as the trainedmonkey shake. Actually, nobody but me calls an ube shake with coconut a 5th and Spring shake (same with the trainedmonkey shake), but I figured I'd plant that seed somewhere. I digress.
Highlights of the evening - Richie Sambora (introduced by Mayor Villaraigosa as "Richie, uh, Santora") and Jon Bon Jovi sang "Livin' On A Prayer", some new song I'm unfamiliar with, a chill cover of "(What's So Funny 'Bout) Peace Love & Understanding", and "Wanted Dead or Alive". Oh yeah, and Al Gore introduced the documentary. Good times.
We hit the
Chinese Food Festival
in Chinatown on Sunday. That was a big mistake. It was something like 300 degrees, which tends to cut down on my cravings for Chinese food. Thankfully, they were screening documentaries at the
Grand Star
, so we had a cold one in air-conditioned comfort when it got to be too much outside. It was obvious after watching the film for a few minutes that everyone else was in there for the same reason. BTW, if you're looking for something to do this weekend,
Firecracker
kicks off the 4th of July tonight at the Grand Star.
I was on my way to the gym earlier this week when I spotted several squad cars on Spring. About half of the officers were wearing vests that said "Parole" and they were handcuffing and arresting about six guys right outside of Charlie O's, the bar on the corner. I remembered that my phone takes lousy pictures, so I whipped it out and snapped this: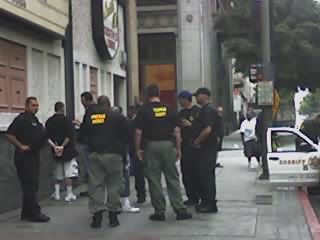 Then one of the officers whipped out his camera and took a picture of me taking pictures of them.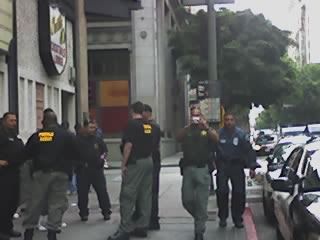 Then about four or five of the officers whipped out their cameras and started snapping away at me. Whatever. So I walked over, laughing, and one of the officers, Officer Cooper, told me that they were sweeping up a bunch of parole violators and that I would now be a lot safer in my neighborhood. I still don't understand why they whipped out their cameras to shoot me shooting them. Lame.
I met with bigshot producer and his crew on Tuesday, at their swanky offices in Beverly Hills. After a little pre-meeting banter, they said liked the script. What a relief, I was preparing for some harsh notes and lots of changes. Bigshot producer had a few questions and more notes, but basically they thought the script was 90% done. One producer said we're probably about two rewrites away from locking it down, but I'm hoping I can nail it on this next round. So my respite from this insane writing assignment was short-lived and I'm back to the grind. I am, however, taking time out this weekend to get a massage and eat a lot of barbecue. But not at the same venue. Wouldn't that be something though? To get a massage while you eat barbecue?
UPDATE: The Downtown News has a story on the Skid Row busts that targeted parole violators. The end of the article has a funny story about an incident at Pete's Cafe. How come nothing like that ever happens when I'm there?