Last weekend,
Jim
and I spent some time in Seattle. Along with my brother
Angel
, we were on our way to meet other family members in Vancouver. We opted to fly into Seattle to see my cousin Lupe, and then drive to Vancouver.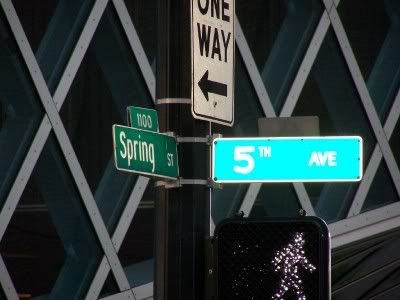 (I forgot to take a picture of the Seattle Central Library here at 5th and Spring, designed by Rem Koolhaas. I suck.)
Lupe and her boyfriend Ciaran live a few blocks away from Seattle's 5th and Spring. I was afraid when she moved to Seattle that they would wind up in some soulless apartment mega-complex, but thankfully they live in a great, funky, historic, downtown neighborhood - plenty of restaurants and cafes to walk to, dangerously close to great shops and galleries, and her building is filled with artsy types, just like her and Ciaran. Look at Angel's pictures
here
. This is the view outside her windows.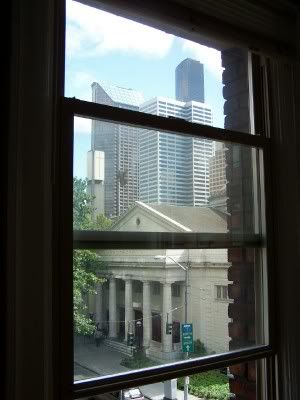 And down the street.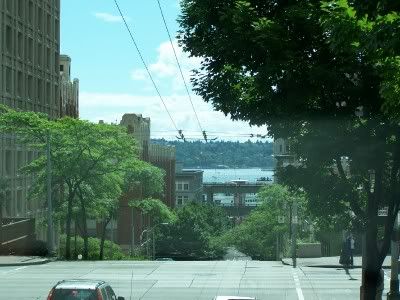 We didn't have as much time to spend in Seattle since we were on our way to Vancouver. We managed to get in a few touristy things, though.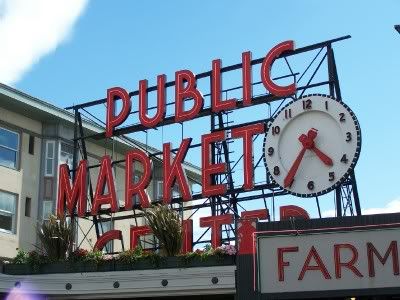 The town has a nice vibe, I liked it more than I thought I would. We'll be back.