One of my girlfriends emailed this picture with the subject line, "Are you and Jim looking for a bed?" A friend of hers was selling a bed and she thought Jim and I would be interested:
I am trying to sell a bed frame I recently purchased. I ordered it over the Internet - it was a bit of an impulse buy. Now that it's arrived, I realize that it doesn't go with any of my other oak furniture. I can't send it back because it was made to order. The bed frame is 100% hand carved and imported from India. The mattress is orthopedic, brand new, and hasn't been slept on. I thought I would give you first dibs, but if you know of anyone else who might be interested please forward this, as I'd like to sell it ASAP. I haven't named a price yet, but if you're interested let me know and we'll work something out. Anyway, have a look below and let me know.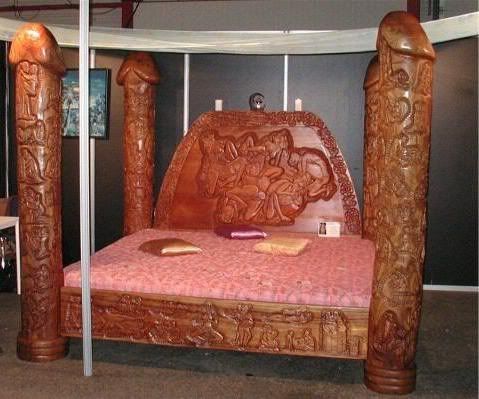 I don't think it'll go with either mine or Jim's furniture, but this could be a new design direction for our future home. What do you think?