The pictures are finally in from
my sister's wedding and reception
from May 7th. If you didn't read my earlier post, the wedding took place at Adam's (the wedding planner and dear friend) fabulous penthouse apartment in downtown Los Angeles and the reception was at
Cole's
down the street.
This is Angel, the visiting dignitary from Chicago and my brother Angel, the best man. They're on the patio of Adam's apartment at the cocktail party before the ceremony. Isn't the view fabulous? It gets better.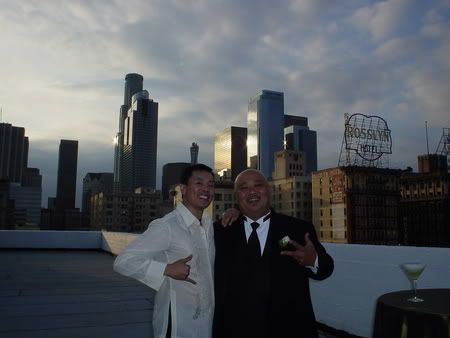 My mom, my two aunts, a cousin and a sorority sister at the cocktail party on the patio. The food and drinks were fabulous. Adam really outdid himself.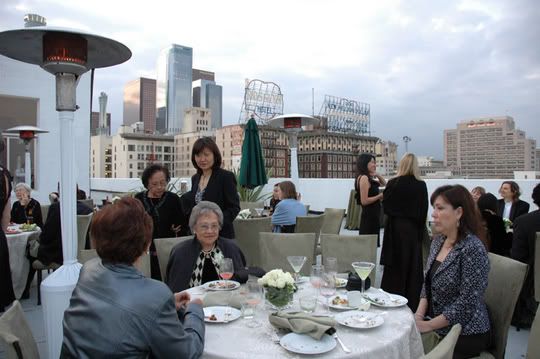 Here's the bride, walking down the aisle. Doesn't my sister look beautiful? She looks so happy.
Allan, music supervisor extraordinaire, officiated at the wedding. Remember the Princess Bride? Allan was spot on, "Marriage. Marriage is what brings us here today..." then the vows, which the couple wrote themselves, part of which was inspired by Dr. Seuss.
"Will you love her on a train, will you love her in the rain?
Will you love her here or there, will you love her everywhere?"
Through metaphor and reality, through chaos and order. And through the comic and the tragic. They said yes.
Minister Mason and my family with the happy couple.
This was the reception on Adam's patio. It was such a beautiful night.
The happy couple on the patio, after cutting the cake, numerous toasts and disposing of the bouquet and garter.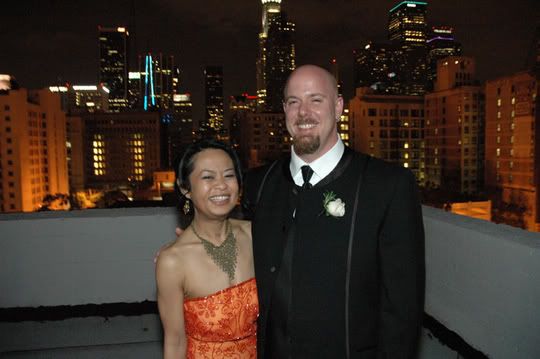 Leaving the building on a candlelight procession...
Around the block to Cole's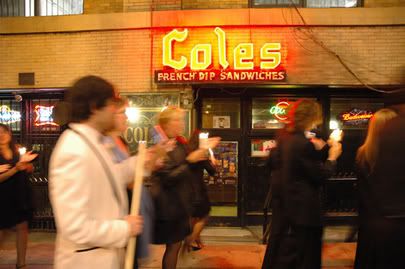 The whole gang at Cole's before we all got really
really
drunk