One Saturday night in Hong Kong, Jim and I visited
Jumbo
, the world's largest floating restaurant. It's so big, we went there twice. The restaurant is three stories tall and holds 2,600 diners comfortably.
The first time, Jim and I didn't actually go inside and it wasn't Saturday night. We were taking a daytime
sampan
ride in Aberdeen Harbour and the captain of our sampan, Thomas, wanted to stop for pictures.
After fifty HK dollars and much pleading, he was persuaded to step aside to take a picture of me and Jim.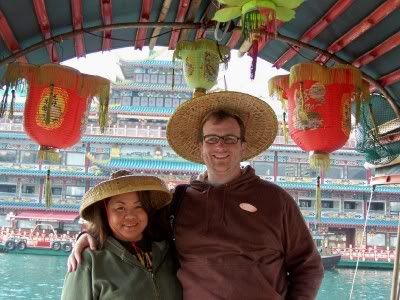 Our second visit to Jumbo was on Saturday night, for a nine-course meal with our "Splendid Night of Delights" tour group. Earlier, we picked up part of our group at Queen's Pier, fresh from a booze cruise, and then proceeded to the Temple Street Night Market. After loading up on Hello Kitty items at 7-11 as well as from a street vendor, we returned to Jumbo.
We sat in the middle of this huge dining room, sharing a table with a British guy in HK on business, a Venezuelan textiles guy currently living in Austria also there on business, two older British women on holiday, and a couple and their teenage daughter from Australia. I was surprised to hear that the Brits at our table had never tried Chinese food before this trip, and, at a restaurant renowned for seafood, the teenage daughter was a strict vegetarian. Earlier the Venezuelan guy claimed to have eaten an eagle the night before. I told him that he probably ate chicken, but they told him it was an eagle. That got a big laugh.
As was my custom on this trip, I informed our tour guide and one of the British ladies sitting next to me (I think her name was Madge) that Jim and I were on our honeymoon. Soon there were toasts all around, people were buying us drinks from other tables, it was nuts! People from across the room were coming over, taking our picture, buying us more drinks, sending over special dishes to try, etc. It was getting embarrassing, but we didn't know how to make it stop.
As if that weren't enough, the management of the restaurant came over and asked us if we would grace them with a picture, taken at the massive throne situated at the end of the room. And would we please change into more formal attire, please?
So there we were, drunk and dressed up like Chinese royalty, the entire room toasting and clapping.
(Just kidding - we paid something like HK$150 for them to dress us up as the Emperor and Empress of China and take some Polaroids. The whole room turned around and laughed and cheered once they realized the new Emperor was a tall white guy from Minnesota.)