After
taking some great pics of stuff happening in Los Angeles
, ex-loftmate Lucas took a staff job with Reuters in New York City, covering entertainment. Sweet for him, but we are sad to see him go.
When Lucas first moved into the penthouse eight months ago, he was also new to Los Angeles. After a few months of hanging out, we decided that I would pick one new Los Angeles thing a week to introduce him and
Jim
to. We didn't exactly stick to our schedule, because work and other things got in the way. Or we let them. Or we just kept going back to our supersecretlatenighthangout instead of going anywhere new. Whatever.
Wednesday night, Jim, Wathana and I took Lucas to the
New Otani Summer BBQ Beer Garden
for dinner. It was a beautiful summer night, we ate and drank prodigiously, and Lucas even waded in a pool. Good times. At some point I might find a card reader so I can download the pictures I took that night. Did I mention I hate moving?
So last night, Lucas packed up the last of his things and left. This morning, ex-loftmate Bob emailed pictures of his leaving and had this to say:
Ola loftamigo -

Tonight Lucas walked out of his empty room in the Alexandria penthouse, crossed Spring St. to the open lot where his car and loaded U-Haul waited, packed in a last couple of things, checked the padlock on the U-Haul door, got in the car, then pulled straight ahead through the lot to Main St. and made a left. At 9:36 PM with the silver grace of the full moon, he vanished out of sight and out of LA, headed for New York City.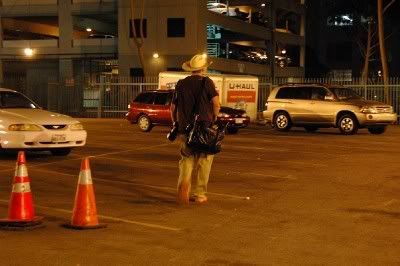 (
Pictures courtesy of Robert Bradford
)
I know you'll be back Lucas, but we're going to miss you anyway. Say hi to Skip for me!