Didn't do as much of what I hoped/planned to do over the holiday weekend, what with the heat and all. I did manage to take
Jim
to one of my favorite restaurants that I don't go to often enough,
La Serenata de Garibaldi
in Boyle Heights. I had the lengua, which was so tender and delicious it almost melted in my mouth. Jim gave the thumbs up on his beef flautas, but I didn't try it, I was so engrossed with my lengua. Their sangria was so yummy that Jim switched from the also yummy (but not as much as the sangria) margarita. A couple serenaded us, with guitar accompaniment, and it was just perfect. It was a beautiful, quiet dinner on a hot Saturday night - the perfect lull before the action-packed holiday weekend festivities.
We had dinner Sunday night as planned,
Shannon blogged about it
. Monday night, we went to the
Hollywood Bowl
for their 4th of July fireworks show and I managed to make it through special guest Kenny Loggins' performance (even though he didn't sing "Danger Zone" from Top Gun) and the loud, rude, disruptive members of the audience without my brain exploding or physical altercations. Jim said the Bowl's website said no cameras, so I wasn't able to practice taking pictures of fireworks, but everybody else and
LA Voice ignored it and took pictures anyway
. On Tuesday we caught a matinee of
The Devil Wears Prada
- Meryl Streep was wonderful, as was Stanley Tucci, and despite some minor annoyances in the story, I really enjoyed it. Then it was on to feasting and fireworks at Gabrielle and Jim's pad. Yeah, it was a good weekend.
Tonight, Jim and I are going to watch
Rebel Without A Cause
at the Los Angeles Theater, the last show in the season for the
LA Conservancy's Last Remaining Seats
.
This is the Palace Theater, taken while standing in line a few weeks ago.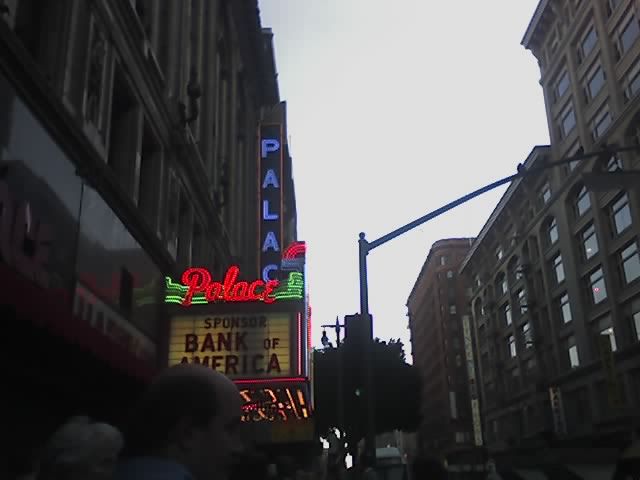 This is the Los Angeles Theater, taken across the street while standing in line for the Harold Lloyd comedies at the Palace Theater.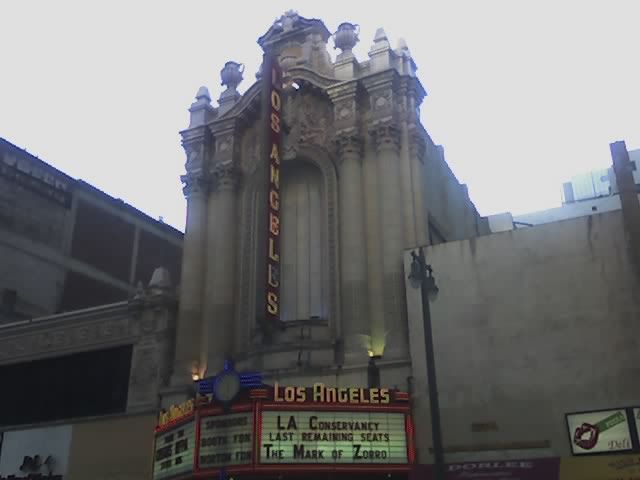 This is the interior, taken during the screening for The Mask of Zorro.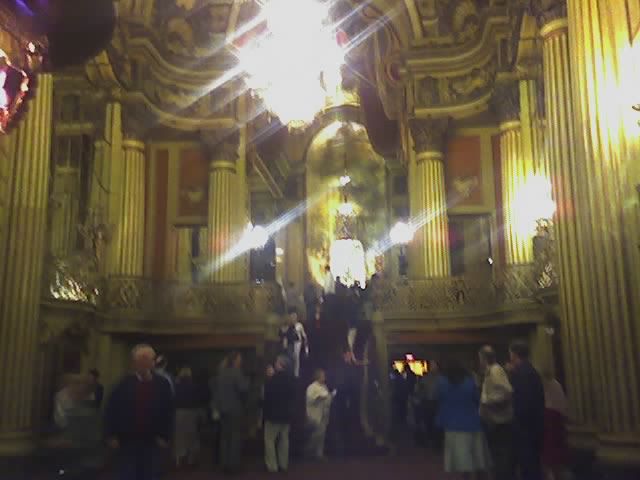 Tonight's show is sold out, so you're out of luck if you didn't get your tix early. It's also the last night of
Nights On The Town
, where various downtown eateries and bars offer pre-theater dining deals and discounts. I better get going or we'll be late for dinner.